If walls could talk…
A truly loved piece of art will not only complete your space but will tell a story. It is a unique expression that hangs on your walls. What do you want it to say?
Which one are you?
We are complex with emotions and different personalities. The dark abstract forest, an overcast storm cloud, to the bright skies and ocean water.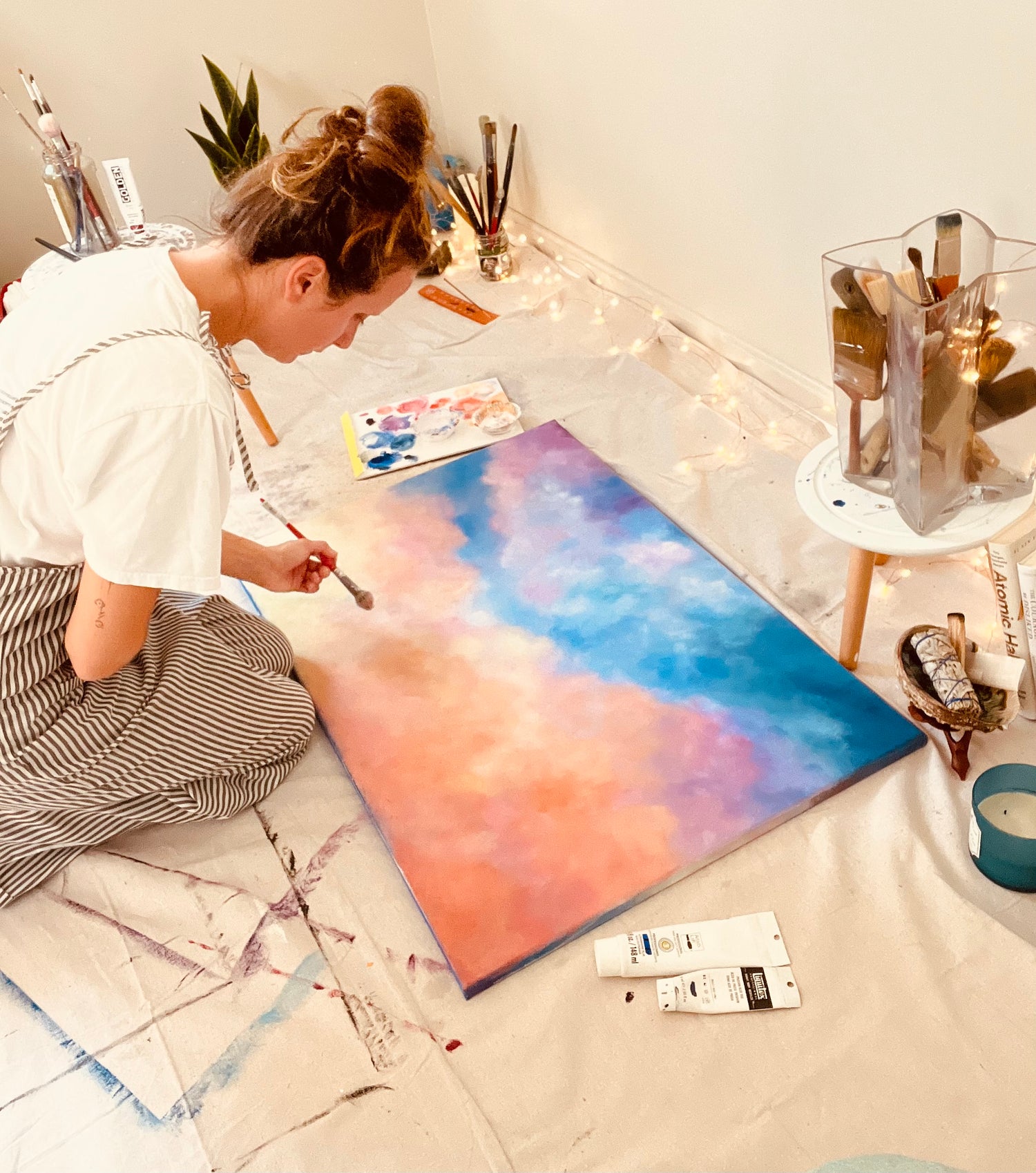 Hello there!
Welcome. My name is Ellie McBride and I create colorful paintings inspired by sunset skies with seascapes, Vermont forests, and my new collection of stormy clouds. I primarily work with acrylic paints on canvas.
My studio is light, bright and boho. I love creating work that is based on the world around us with a hint of imagination, colorful and inviting to the eye. 
I live, work and play in White River Junction, Vermont.
Read My Story
Kind Words From My Collectors
"Ellie's art never ceases to amaze me. Ive had several personalized paintings and every single one, has turned out beyond my expectations."

Dylan S.

"Ellies paintings captured my eye by the beautiful bright colors that make me think of endless possibilities."

Amber P.

"The most striking feeling I get from the "overcome" painting is eternal hope and a quest for peace of mind. My life, right now, feels like its under water, yet I am constantly striving to be free above, my spirit and heart in the clouds. It was a surprising and immediate emotional response. Im glad its mine and I get to look at it every day of my life. Inspiring and hopeful."

Vickie S.

"Watching Ellie embrace her talent and dedicate herself to painting is beyond inspiring. Her passion and drive shines through every piece she does, whether it be vibrant and colorful or dark and macabre. I am incredibly proud of her as it is often difficult to follow the path of the souls true calling. She has ignored the naysayers, pushed aside her own doubt, and put faith in herself to produce these amazing pieces. Painting is very clear what she was meant to do here in this life."

Becky H.